Author Spotlight: Reed Martin & Austin Tichenor
Author Spotlight: Reed Martin & Austin Tichenor
Welcome back to Picture Book Spotlight! Weren't we just here? Yes. Yes, we were. In the name of celebrating Shakespeare's birthday week, I just had to schedule another post. I don't think I will attempt another three post week since, well, I'm basically this duck.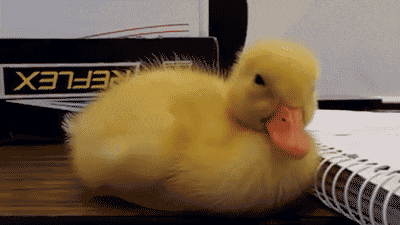 But I'm alive! So here we go. First thing's first. Please congratulate, Sara Fajardo! She won Toni Yuly's new book, The Whole Wide World and Me. Tell her congrats! Give her a follow! Spread the love! Etcetera! If you happened to miss Toni's Illustrator Spotlight you can read it here. Also, if you missed Kristen Kiesling's wonderful Author Spotlight this Monday, you can check it out here. Make sure to give her a follow too!
Alright. The main event. For a theatre themed picture book website (spotlights), it brings me an extra ounce of joy to Spotlight two theatre-guy authors! Yes, this is a two for one deal. You're welcome.
We have Reed Martin and Austin Tichenor, co-authors of Pop-Up Shakespeare, and also
the Managing Partners of the Reduced Shakespeare Company!
Here we go!
REED: I was raised and still live in Sonoma CA. My BA is from UC Berkeley, a double major in Poli Sci and Dramatic Arts. My MFA in Theatre is from UC San Diego. I am also a graduate of Ringling Brothers Barnum & Bailey Clown College and I spent two years performing as a clown with Ringling Brothers Circus. I joined the Reduced Shakespeare Company in 1989.
AUSTIN: I'm a fifth-generation Californian born on the 54th anniversary of the San Francisco Earthquake and 185th anniversary of Paul Revere's Ride, which makes me older than I look but short for my weight. I was a History/Drama double major at UC Berkeley (where I met Reed) then got my MFA in Directing from Boston University. Reed and I have written ten scripts for the RSC, which are published in both the US and the UK and have been translated into a dozen languages. Our irreverent reference book Reduced Shakespeare: The Complete Guide for the Attention-Impaired (abridged) was published in 2006 by Hyperion. I've adapted several novels for the stage and my adaptation of Frankenstein has had a few recent productions. I've directed around the country (most recently Twelfth Night for Cincinnati Shakespeare Company last fall), and am a monthly contributor to the Folger Shakespeare Library's "Shakespeare & Beyond" blog.
REED: We are a three-person touring theater comedy troupe that creates and performs fast-paced, seemingly improvisational condensations of huge topics. The company's style has been described as "New Vaudeville," combining both physical and verbal humor, as well as highbrow and lowbrow. Known as the "Bad Boys of Abridgment," the RSC has created ten stage shows: The Complete Works of William Shakespeare (abridged) in 1987, The Complete History of America (abridged) in 1992, The Bible: The Complete Word of God (abridged) in 1995, The Complete Millennium Musical (abridged) in 1998, All the Great Books (abridged) in 2002, Completely Hollywood (abridged) in 2005, "The Complete World of Sports (abridged)" in 2010, The Ultimate Christmas Show (abridged) in 2011, The Complete History of Comedy (abridged) in 2013 and William Shakespeare's Long Lost First Play (abridged) in 2016. The company tours most frequently across the U.S. and Great Britain, and it has also performed in Belgium, Holland, Canada, Australia, New Zealand, Japan, China, Singapore, Barbados, Bermuda, Israel, Qatar and Ireland. The Reduced Shakespeare Company is heard frequently on both NPRand the BBC.
AUSTIN: Reed's answer is pretty great, but I want to clarify that he and I are not the authors of the RSC's first play The Complete Works of William Shakespeare (abridged). That was written by the RSC's founding members Adam Long, Daniel Singer, and Jess Winfield. Reed and I have written all the RSC's other scripts, collaborating with Adam Long on two of them.
It might be more accurate (and definitely more fun!) to say that Reed and I are the co-artistic directors of the Reduced Shakespeare Company.
REED: Austin can tell this story better than I can but Jennie Maizels reached out to Austin on social media. She said she had an idea for a pop-up book that she wanted to discuss with us. It turned out that Austin already owned other pop-up books by Jennie so we eagerly agreed.
AUSTIN: It's the power of social media, baby! I manage the RSC's Twitter account and one day, out of the blue, I received a tweet from Jennie Maizels, asking for our email address and promising she's "not a weirdo." I thought her name sounded familiar and some quick googling revealed her incredible range of pop-up books and the the fact that I already owned four of them! I responded immediately, she sent me an email saying she wanted us to write the text for a pop-up book about Shakespeare, I texted Reed and got back to Jennie saying that of course we'd love to create a book with her. The whole exchange took no more than fifteen minutes. Jennie did lie about one thing, though: She is, in fact, a weirdo.
REED: In his time Shakespeare was popular entertainment. Over the centuries he has been put on a pedestal and folks are now sometimes intimidated by his work. The RSC likes to kick the pedestal out from under Shakespeare and help make him accessible again. We think our approach may be more faithful to Shakespeare's original intent than many serious modern productions of his plays.
AUSTIN: There were two big reasons, for me. One is that describing and summarizing all of Shakespeare's plays and poems and facts of his life into child-friendly language on just ten pages and multiple pop-ups and flaps seemed like the ultimate in reduction. And we wanted to create a book where a child's first experience with Shakespeare can be bright, colorful, irreverent, factual, exciting, and fun! (Which the best productions of his plays usually are but sometimes aren't.)
REED: Our stage plays are written to be enjoyed by adults but many younger folks enjoy them too. The book was just the opposite - designed for kids but fun for grown ups. One part that that I enjoyed about creating the book was when our editor would give us a (small) exact number of words that we needed to use to fill a particular space in the layout. These constraints force you to be creative in a great way.
AUSTIN: My previous answer might work here too. But another favorite part was discovering that the process of putting together a pop-up book is very similar to creating one of our stage shows. There are multiple collaborators, tons of great ideas from unexpected places, important responses from early readers and audience members, and you have to think about how to tell your story through pictures as well as words.
My wife, Katherine and I are both theatre educators and she works for the Heart of America Shakespeare Festival in Kansas City. We both really loved the concept of this book and are so proud to have it in our son's nursery for him to enjoy in the future. The artwork and complex pop up elements are really exceptional. Certainly a must have for any fan of William Shakespeare! Why was this particular book best suited as a novelty pop-up book?
REED: I think Shakespeare is particularly suitable material for a pop up book because he tells great stories and paints images with his language. It can be challenging for young readers to understand his language. This book is a great introduction to Shakespeare's work. We use pictures and modern language and kinds love that.
AUSTIN: First of all — thank you!! Better than "just" an illustrated book, a pop-up book is theatrical: Your response to it depends on how you interact with it and where you hold it. Do you hold it on your lap and look down? Do you set it on a table and look straight at it? Do you turn it around? Do you lift the flaps? It's like seeing the same play multiple times, but from a different seat in the audience every night.
Shakespeare's birthday was this week on the 23rd! He is now a spry 455. Thinking about your work over many years, and now with a picture book to boot, what does it mean to you personally to champion such an important, prolific writer?
REED: Shakespeare was actor, producer, and playwright. With the RSC, Austin and I are actors, playwrights, producers, and directors so we have some perspective on all the hats he wore and what the demands might have been like. We're not saying we're modern day Shakespeares! Far from it. But we feel like we understand him from a personal and professional point of view.
AUSTIN: I kinda feel like the reverse is happening: Shakespeare doesn't need any championing from me, but I feel like my work is challenged and improved by its association with Shakespeare. Whether I'm adapting his plays to direct, or writing "new" Shakespeare plays, or saying his lines onstage, or looking at his work critically for the Folger Shakespeare Library, I feel like my acting/writing/directing/thinking is tempered and sharpened by working on such wonderful texts.
I keep seeing signs indicating that poetry is on the rise. Even in novel form with middle grade and young adult fiction. I love it! What are your thoughts on this? Are we seeing a poetry renaissance? Have you seen an increased interest in Shakespeare's work as well?
REED: Fortunately for us, Shakespeare seems to be evergreen.
AUSTIN: I think, with as much modesty as I can muster, the Reduced Shakespeare Company has done a lot to help popularize and de-mystify Shakespeare in the last thirty years. I hope that fewer people are intimidated by him and more eager to dive into his plays and his poetry. If that's helped contribute to a poetry renaissance, that's outstanding!
REED: We do have ideas for some more pop up books. If and when they happen your readers can find out about it at www.reducedshakespeare.com or on our free weekly Reduced Shakespeare Company Podcast. We will also announce it on Facebook and Twitter.
AUSTIN: So would we! We're talking with Jennie about what a good follow-up might be…and it also occurs to us that our new play (see below) might make a wonderful children's book.
REED: Yes, later this year the RSC will premiere its 11th stage show. It's a prequel to Hamlet entitled "Hamlet's Big Adventure! (a prequel)." In the show Yorick is very much alive and passes on to Hamlet his love of theatre. Hamlet's father is also alive and likes to dress up like a ghost and scare people. Polonius' wife won't let him get a word in edgewise. Oh, and Ophelia refuses to take swim lessons. You get the idea.
AUSTIN: Reed described our new play very well in his answer. You can hear us talk about it on this week's episode of the RSC Podcast (and also see the fantastic poster art by artist Lar DeSouza). I'll only add that one of my impulses in writing Hamlet's Big Adventure (a prequel) was imagining what would happen if Tom Stoppard wrote Muppet Babies.
Thank you for sharing so much with us, Reed and Austin! Break many legs in your future plays and (hopefully) many other picture books!
And thank YOU, kid lit fam! To thank you for reading, Candlewick Press has generously provided a copy of this VERY unique pop-up picture book that will make any shelf or coffee table look SPECTACULAR...or better yet, it will make any kid very jazzed to read it!
Alright all my Shakespeare lovers...you know what to do. In the words of William Shakespeare, "leteth the games begineth!"
To enter the giveaway contest for your chance to win a copy of:
Do one of two things:
1. Retweet this post with a comment.
OR
2. Share a comment below AND subscribe to Picture Book Spotlight.
The deadline for this contest is Monday, April 29th at 9AM CST
The winner will be contacted on Monday, April 29th and announced on Twitter
About Reed Martin
Reed co-created and performed in the original productions of The Complete History of America (abridged), The Bible: The Complete Word of God (abridged), Western Civilization: The Complete Musical (abridged), All The Great Books (abridged), Completely Hollywood (abridged), The Complete World of Sports (abridged), The Ultimate Christmas Show (abridged), The Complete History of Comedy (abridged), and William Shakespeare's Long Lost First Play (abridged). He also contributed additional material to The Complete Works of William Shakespeare (abridged).
Reed is a managing partner of Reduced Shakespeare Company and has performed in London's West End, at Lincoln Center Theater, Kennedy Center, Seattle Repertory Theatre, American Repertory Theatre, Pittsburgh Public Theater, California Shakespeare Theatre, McCarter Theatre, Long Wharf Theatre, Old Globe Theatre, La Jolla Playhouse, Alabama Shakespeare Festival, The White House and Madison Square Garden, as well as in 12 foreign countries. Reed has performed at A.C.T. in San Francisco in Travesties by Tom Stoppard and The Government Inspector, as well as at the Magic Theatre in Moving Right Along, written and directed by Elaine May and featuring Marlo Thomas. He toured for two years as a clown/assistant ringmaster with Ringling Brothers/Barnum & Bailey Circus. His voice was heard in the animated feature film Balto and just about every other part of him was seen in the British film Carry On Columbus.
Reed has written for the BBC, NPR, Britain's Channel Four, RTE Ireland, Public Radio International, The Washington Post and Vogue magazine. With Austin Tichenor he co-authored the e-book How The Bible Changed Our Lives (Mostly For The Better), as well as Reduced Shakespeare: The Complete Guide For The Attention-Impaired (abridged), published by Hyperion.
His work has been nominated for an Olivier Award in London, a Helen Hayes Award in Washington, D.C., and San Francisco Bay Area Theatre Critic's Circle Award. He has a BA in Political Science/Theatre from UC Berkeley, an MFA in Acting from UC San Diego and is a graduate of Ringling Brothers/Barnum & Bailey Clown College. A member of both the Dramatists Guild and The Stage Directors and Choreographers Society, Reed is also a former professional minor league baseball umpire. He lives in Northern California with his wife and two sons, all three of whom are much funnier than he is.
Reed on Twitter, Reduced Shakespeare Company
About Austin Tichenor
Austin Tichenor is co-managing partner of the Reduced Shakespeare Company and has performed with them around the world, off-Broadway, in London's West End, in the PBS version of The Complete Works of William Shakespeare (abridged), and at such theaters as the Kennedy Center, Lincoln Center, American Repertory Theatre, the Folger Shakespeare Theatre, Cincinnati Playhouse in the Park, Pittsburgh Public Theatre, Merrimack Repertory Theatre, and Repertory Theatre of St. Louis. He's the co-author of nine Complete (abridged) stage comedies, the half-hour film The Ring Reduced for UK's Channel 4, the half-hour pilot The Week Reduced for TBS, the six episode Reduced Shakespeare Radio Show for the BBC World Service, the comic memoir How The Bible Changed Our Lives (Mostly For The Better) for all e-book platforms, the irreverent reference book Reduced Shakespeare: The Complete Guide for the Attention-Impaired (abridged) for Hyperion Press, and Pop-Up Shakespeare (illustrated by Jennie Maizels), published by Candlewick Press in the US and Walker Books in the UK & Australia. He also produces and hosts the weekly Reduced Shakespeare Company Podcast, which was named one of Broadway World's Top Ten Podcasts for Theatre Fans.
He's starred in the original productions of the nine RSC shows he co-wrote, performed with both the Oakland Symphony and the Los Angeles Philharmonic, and acted in both the midwest premiere of Lauren Gunderson's The Book of Will at Chicago's Northlight Theatre and the world premiere of In The Garden: A Darwinian Love Story with the Tony Award-winning Lookingglass Theatre Company. On TV, Austin played recurring roles on 24, Alias, Felicity, Ally McBeal, and The Practice, and guest starred as Guys In Ties on The West Wing, The X-Files, ER, The Mentalist, Nip/Tuck, Gilmore Girls, and on many other hours of episodic television. He's also performed his own material many times on NPR and the BBC.
A lyricist and adaptor, Austin is an alumnus of the BMI Musical Theatre workshop and has written over a dozen plays and musicals for young audiences. His full-length one-act Dancing on the Ceiling (an adaptation of Kafka's "The Metamorphosis") and adaptation of Frankenstein are both published by Broadway Play Publishing. He directed the world premiere of his adaptation of The New York Times bestselling author Jasper Fforde's The Eyre Affair in 2016, and Twelfth Night for Cincinnati Shakespeare Company in 2018.
Austin is a fifth-generation Californian who was born on the 54th anniversary of the San Francisco Earthquake and the 185th anniversary of Paul Revere's Ride, which makes him older than he looks but short for his weight. He's a member of the Dramatists Guild, has a BA in History and Theatre from UC Berkeley and an MFA from Boston University. He currently lives in Chicago with his improviser and writer wife Dee Ryan, their two kids, and too many cats.